Team Hong Kong finishes 13th in the IQA World Cup 2023, obtaining its best final ranking
Team Hong Kong participated in the IQA World Cup 2023 from 15 to 16 July in Richmond, Virginia, the United States of America. After playing 5 matches, Hong Kong finished with our best final ranking in the World Cup - 13th (with Austria and Norway).
This World Cup was originally scheduled in 2020, but unfortunately it was postponed due to the pandemic. Hong Kong's original 2020 squad consisted of 25 players, but unfortunately things changed after a three-year delay. Still, the 15-player Team Hong Kong did its best in Richmond this year.
Team Hong Kong's kits are once again designed by Hongkongese quadball player Charles CHEANG. The jerseys feature a whole new wave pattern, symbolising Hong Kong's famous Victorian Harbour, and the iconic skyline of Hong Kong. Our home jersey is in the classic white and red colour, while the away jersey is in black and red this time.
The squad
To everyone's disappointment, Jessie HO, an avid Hong Kong-based quadball player who was originally named captain of Team Hong Kong, could not travel to the USA due to visa issues. This meant that Hong Kong only had a small squad of 15 players to start with. Unfortunately, Garbo CHENG YE injured himself in our pre-tournament practice session with Australia, leaving us with only 14 players for the World Cup.
Team Hong Kong is once again coached by Fraser POSFORD (#83), a Hong Kong-born experienced quadball player, who also served as the team's Captain and played in all five of our matches. Chris LAU (#26), the Co-Founder of Hong Kong Quadball Association, again served as the team's Manager, and this time also as a Vice-Captain. Ema SHIROMA-CHAO (#14), a Canada-based player who first played for Hong Kong in 2018, also served as a Vice-Captain. Fraser, Chris, and UK-based Hongkonger Timothy LUK (#65) both played for Hong Kong in the World Cup 2018 and European Games 2022.
Two players who played their first quadball tournament in the European Games for Hong Kong, TO Wing Hei (#19) and Nicholas FU (#25), are also in the squad. TO Wing Hei is now a chaser playing for the London-based club "Phoenix QC Clapham", while Nicholas FU is a chaser playing in Tokyo, for the newly-established team "Iron Horse".
Team Hong Kong also includes several experienced players based in the North America, including two players who play in the Major League Quadball, Michael LI (#11) and Timothy KWAN (#8), and other also experienced players: Jessalynn TSANG (#0), Kimberly HUANG (#17), Alec WEBBER (#54), and Alex LAI (#88).
Besides Chris, other Team Hong Kong players who played in the tournaments held in Hong Kong in April this year are Rachel LI (#23) and Queenie WONG (#99).
The matches
We have been drawn into a group with African nations, Belgium, United States and Norway and played a single round-robin of matches with these teams on the first day of the World Cup.
In the first match, Hong Kong lost to African Nations by just 80 to 110, with Team Hong Kong top goalscorer Michael LI, Captain and Head Coach Fraser POSFORD and player Nicholas FU on the scoresheet and Chris LAU catching the snitch.
| | | |
| --- | --- | --- |
| Hong Kong | 80* - 110 | African Nations |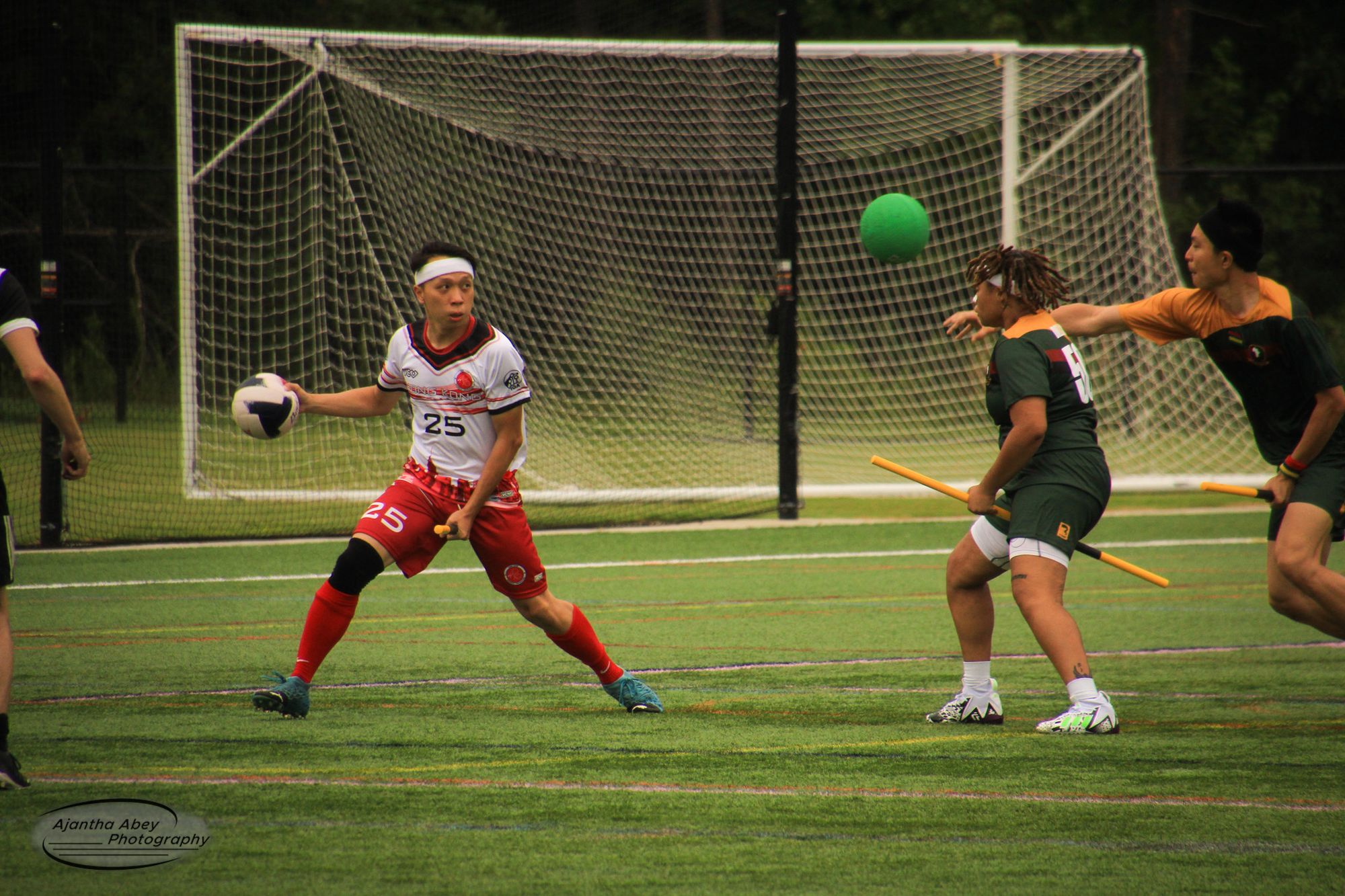 Hong Kong faced tough opponents afterwards, namely Belgium (which came third eventually), USA (which became Champion eventually), and Norway (third runner-up of the European Games 2022), losing by 40 to 160, 10 to 220 and 80 to 260 respectively. Remarkably, Michael LI scored a goal against the World Champions USA!
| | | |
| --- | --- | --- |
| Belgium | 160* - 40 | Hong Kong |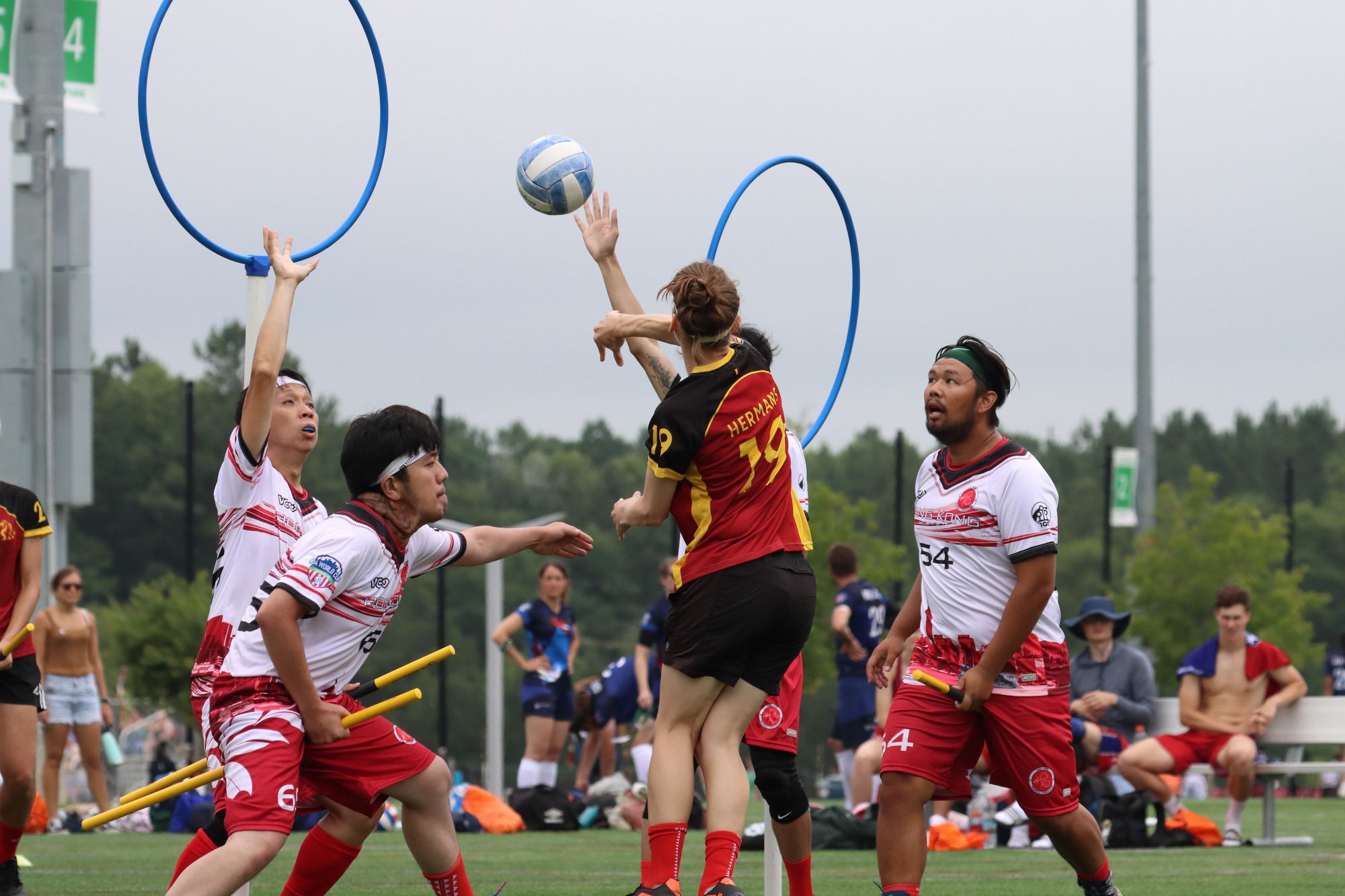 | | | |
| --- | --- | --- |
| USA | 220* - 10 | Hong Kong |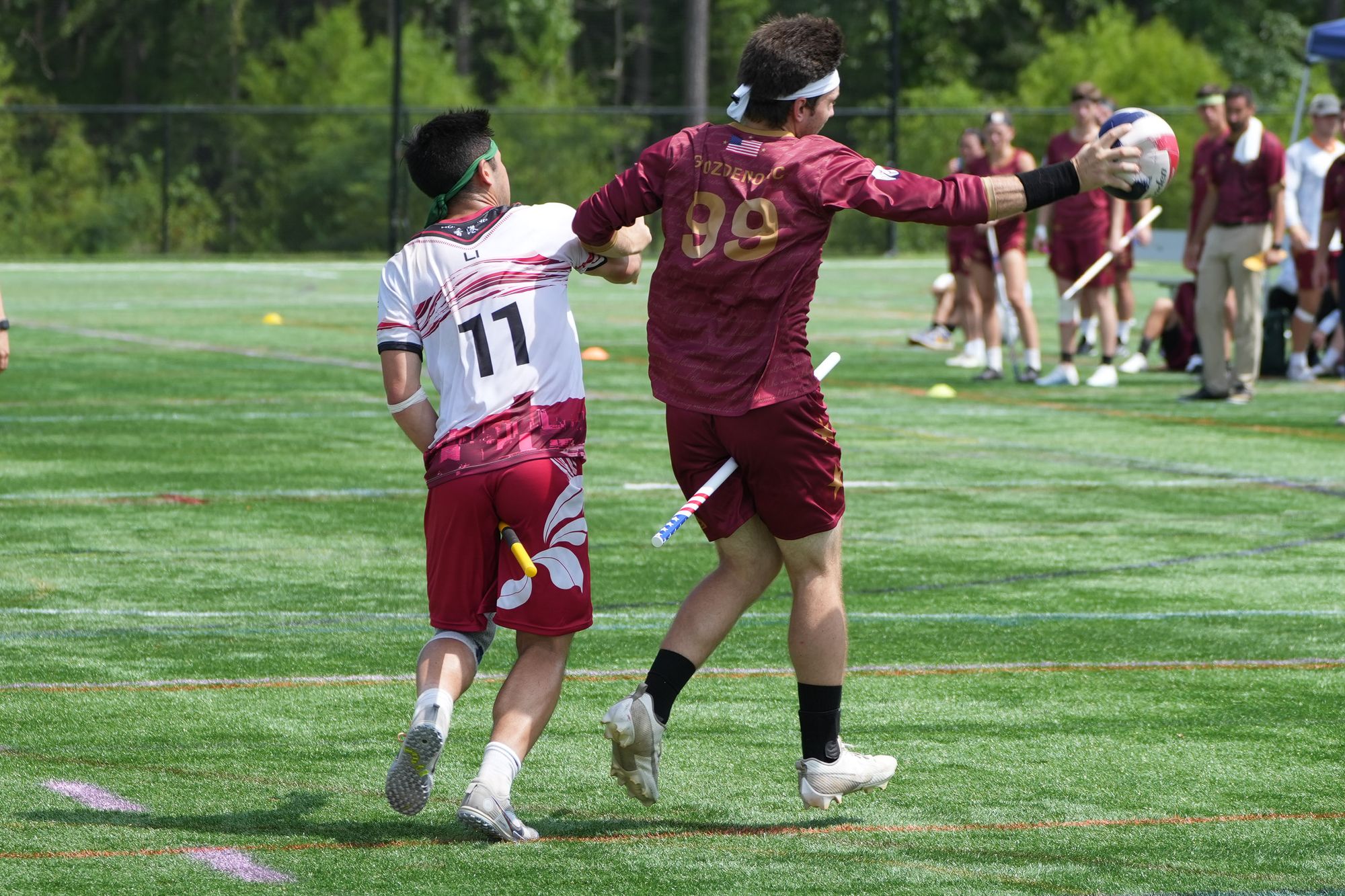 | | | |
| --- | --- | --- |
| Norway | 260* - 80 | Hong Kong |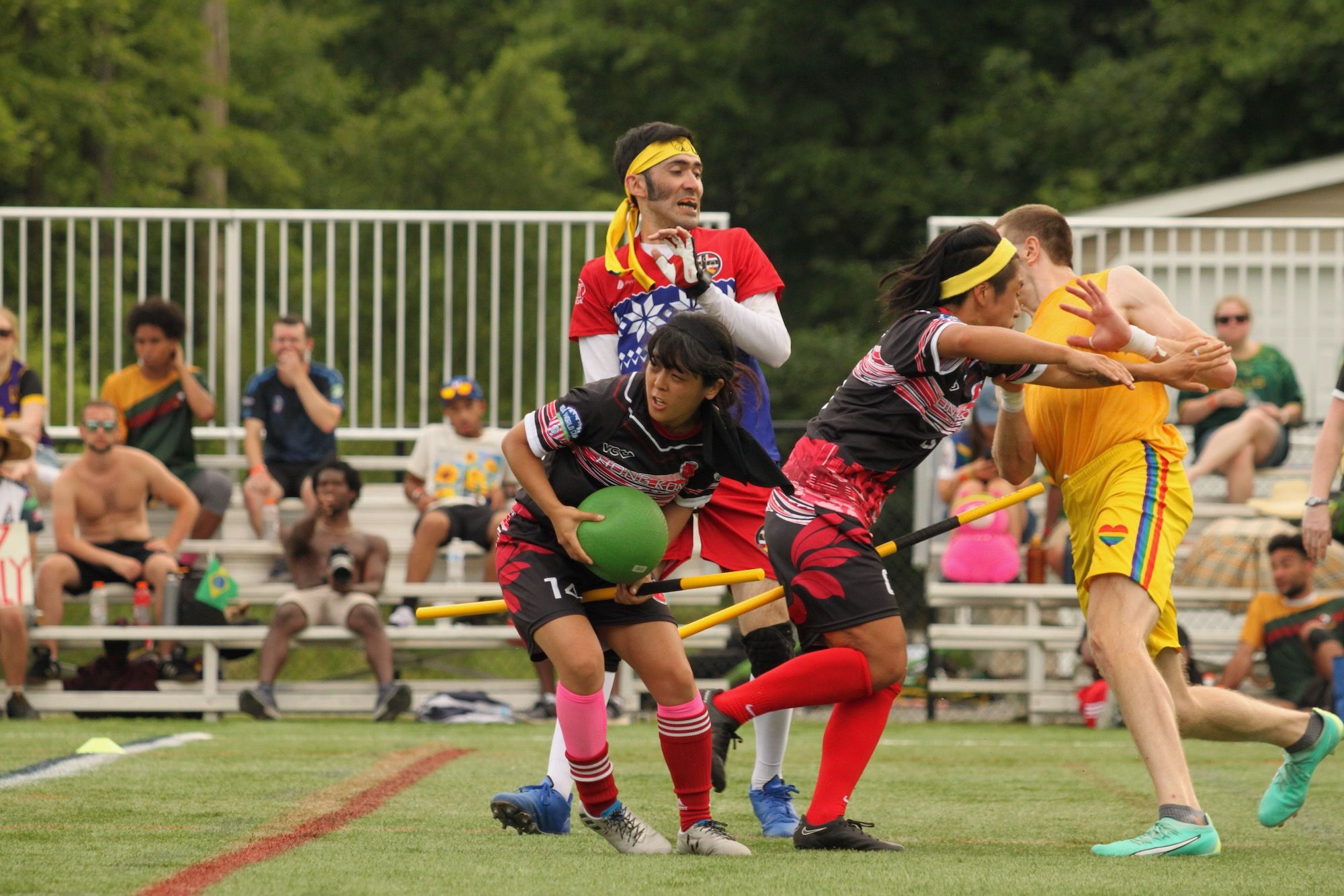 On the second day, Team Hong Kong faced Brazil, the reigning IQA Pan-American Games Champion, in the place playoff. Although the match was once suspended due to heavy rain and lightning, Hong Kong never gave up and played a close match with Brazil. Unfortunately, Brazil caught the snitch at the last moment, defeating Hong Kong by 210 to 160. Although Team Hong Kong failed to secure a win, it obtained its highest ranking in the IQA World Cup.
| | | |
| --- | --- | --- |
| Brazil | 210* - 160 | Hong Kong |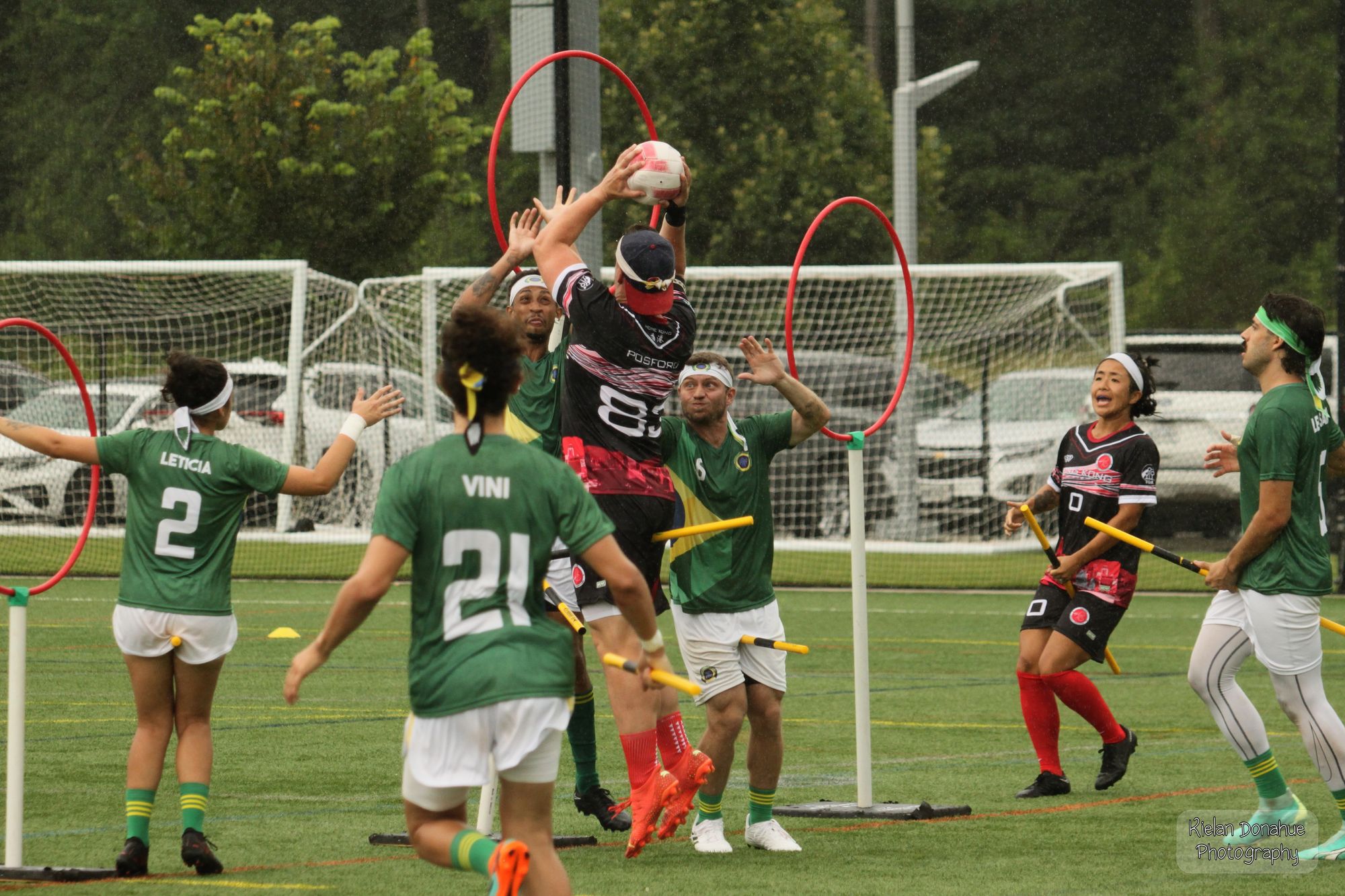 Fraser POSFORD, Captain and Head Coach of Team Hong Kong, says, "Coming into the tournament, we knew how challenging it would be for Hong Kong to compete at the World Cup given the high standard of our opposition and Hong Kong being the team with the smallest roster at the tournament. However, Hong Kong scored in every single match, including against the eventual champions the USA and Bronze medalists Belgium, and we also caught the flag against African Nations. I would say the highlight of our tournament was the close match with Brazil. It's by far the strangest match I've ever played in my Quadball career with play starting in torrential rain before a storm delay and finishing in scorching summer heat. The skill and experience of Hong Kong's players allowed us to play an incredible match in which we were only one small step away from victory. Personally, I'm really pleased with the effort and the passion that the players showed throughout the tournament. I hope that we can help inspire the growth of quadball in Hong Kong and across Asia. This is a sport that's built for everyone to play and participate in both on and off the pitch and I look forward to seeing more Hongkongers get involved in the future of quadball."
Chris LAU, Vice-Captain and Manager of Team Hong Kong, says, "I am very honoured to be able to catch the snitch in the Quadball World Cup. I am also very satisfied with the performance of all the players. Although Team Hong Kong failed to secure a win, we showed our spirit of never-giving-up even when facing the strongest opponents."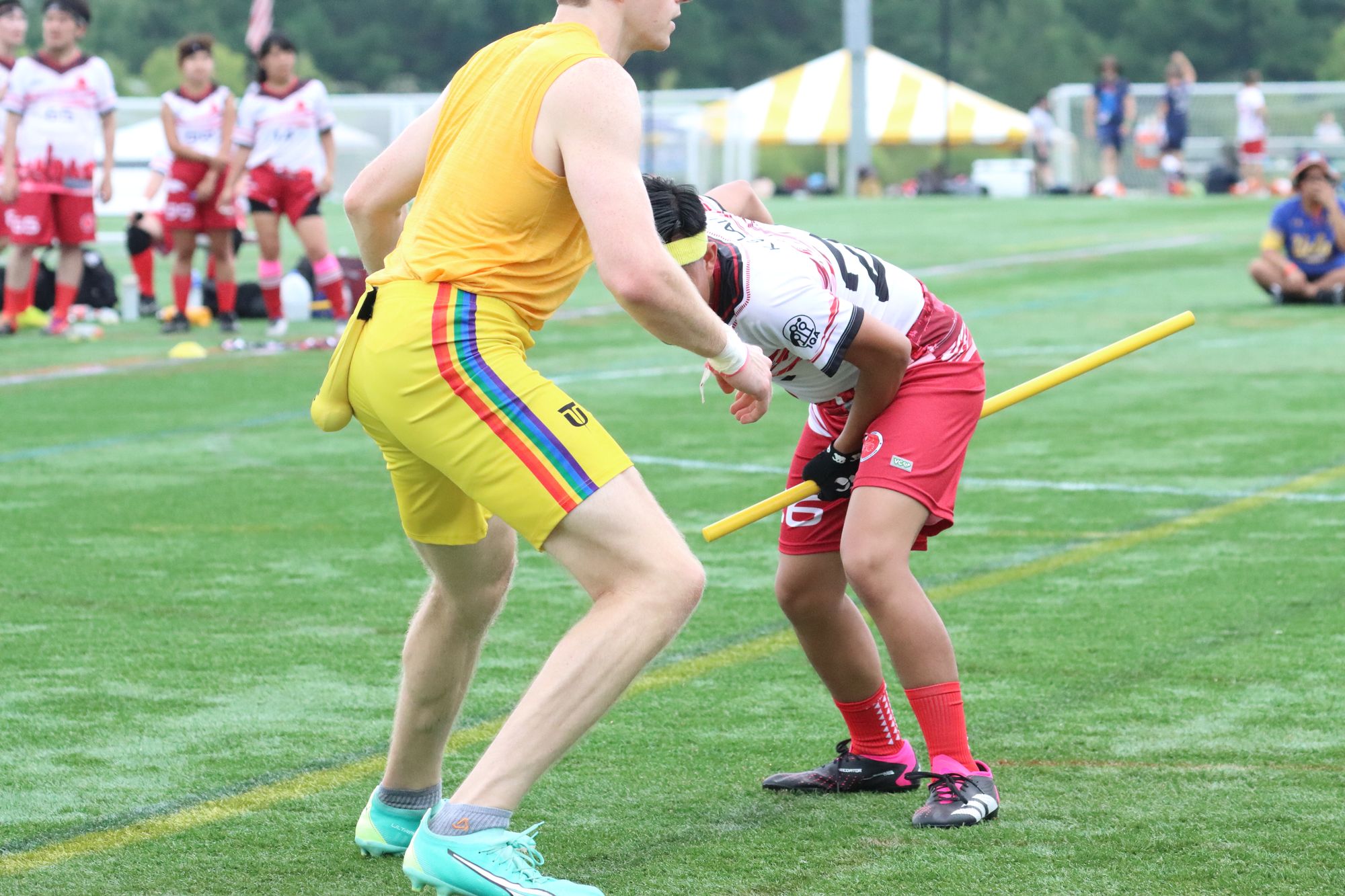 Nicholas FU, the player who scored a goal and is now playing for a quadball club in Tokyo, says, "I am very glad to have scored my first goal for Hong Kong, which was what I aimed for before the World Cup. I practised repeatedly the shooting movements and skills for the tournament during our practices, and my goal proved that my hard work paid off. It is a pity that we failed to secure a win and I hope that my next goal will bring Hong Kong victory."