HKU Quidditch's roster for Edo Quidditch Cup on 2 Feb 2019 announced
The HKU Quidditch Club is pleased to announce its roster for the Edo Quidditch Cup 2019.  The Edo Quidditch Cup will be held on 2 February 2019 in Tokyo, Japan.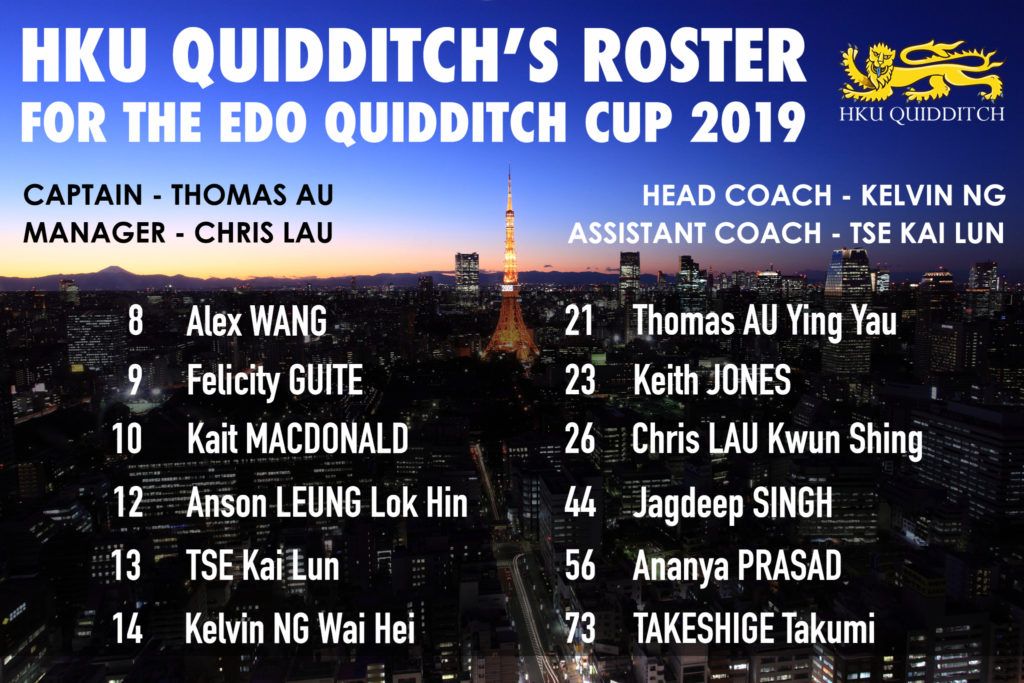 There will be 12 players representing HKU in the tournament, including 6 HKU students (Ananya PRASAD, Anson LEUNG Lok Hin, Chris LAU Kwun Shing, TAKESHIGE Takumi, and Thomas AU Ying Yau), 1 HKU SPACE student (Keith JONES), and 1 former HKU staff (Alex WANG).
Kelvin NG Wai Hei, who caught the snitch for Team Hong Kong in their historic win against Finland in the IQA Quidditch World Cup last year, will be the Head Coach cum player. TSE Kai Lun from the UNSW Quidditch Society will be the Assistant Coach cum player. Also in the squad are two players with quidditch experience in Scotland, Felicity GUITE and Kait MACDONALD.
Due to insufficient time in making their club jersey, HKU Quidditch will wear the Team Hong Kong 2018 home jersey in the tournament. They will face two other Japanese teams, Kaminari Monsters and Katayaburi Hinomaru Unions.
The updated schedule of the tournament is as follows:
11:30 gather
11:50 captains meeting
12:00 enter the pitch and set up
12:30 game 1
13:15 game 2
14:00 game 3
14:45 finals
15:30 closing announcements, photo, fun
16:00 leave area
19:00 gather for after-party
19:30 after party
22:00ish finish after party